It's not a secret that I love books of all kinds. Classic literature, fantasy, microhistories, how-tos, cookbooks, journals and even planners all have places on my shelf.
What is it about a book that seems so special? Is it the stories and worlds coming to life? The smell of the paper? The way it sounds when you turn the page?
If you love books as much as me or you know someone who does, you'll want to make one of these adorable charms. These make great gifts for your favorite teacher, librarian, bookshop owner or every member or your book club. They come together pretty quickly and are a lot of fun to make, so don't be surprised if you find yourself creating a lot of these charms.
This project can also be made in baby steps instead of all in one day. There is drying time for the glue, so that would be a perfect place to stop if you only have 15 minutes per day.
For a longer crafting day, these can be completed pretty quickly once the paper is cut to the correct sizes. These are the perfect project to use up small scraps of paper and to reuse cardboard food boxes.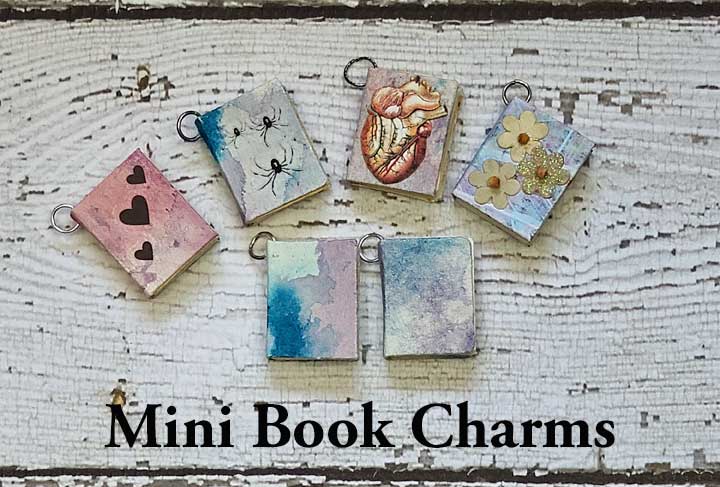 Supplies and Tools for the Mini Book Charm
1 piece decorative paper, cut to of 2⅛" x 1¼"
2 pieces of cardboard box, cut to ¾" x 1″
1 piece of cardboard box , cut into ¼" x 1″
30-40 pieces of scrap paper, cut into ¾" x 1″
small embellishments to decorate the cover (optional)
scissors
1 jump ring
small hole puncher
jewelry pliers
PVA glue
Small brush
Clip of some sort
Magnifier (optional)
Before following the steps in the video, you will need to have the paper and cardboard already cut to the correct sizes.