Please note that this post may contain affiliate links. (That means I make a commission if you use my affiliate link to buy the product at no additional cost to you.)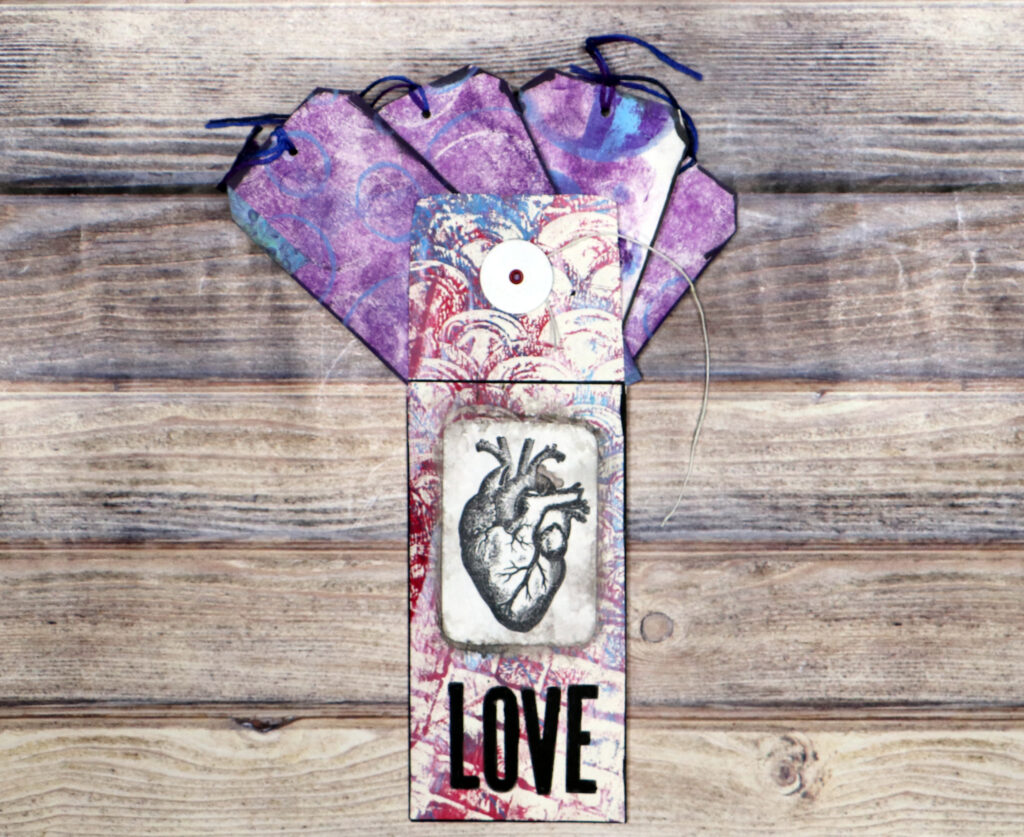 Yesterday, my family tried a new chocolate bar. It was very tasty, by the way. I was also impressed by the label, not only because of the cool design, but because of the cute pocket it had. I thought it would be a great size for shipping tags or perhaps a non-traditional Valentine card.
I'm not sure if you know this, I am on a personal mission to use up some of the HUGE stack of gelli prints I have created over the past few years. So I decided to use that chocolate wrapper as a template to create a new envelope using some gelli prints.
Here is the step-by-step video to create this yourself:
Supplies
envelope template
gelli print
black pen
scissors
bone folder
2 punched circle
2 eyelets
hole puncher and eyelet setter
small piece of white paper
black StazOn Pad
Gel Medium
small paint brush
letter stamps
black Distress marker
water mister
black Posca pen
small string for closure
Instructions
Trace the envelope template onto the gelli print.
Cut out template with scissors.
Use the the envelope template and a bone folder to score the folds on the envelope.
Punch holes into circles.
Decide where they will go on the envelope. Mark, then punch holes.
Using the eyelet setter, attach circles to the holes in the cover.
Stamp heart onto white piece of paper with black StazOn ink.
Trim heart to fit onto envelope and round corners if desired.
Attach to the top of envelope with gel medium.
When dry, trace the edge of the heart image with black Distress marker. Spray with mister. Let Dry.
Add letters spelling out the word LOVE with black StazOn pad. Color in with black Posca pen.
Using the black Posca pen to edge the front part of the envelope.
Fold the small bottom flap towards the inside. Apply gel medium to the larger flap on the edge. Fold in the small side flap, then the larger flap with the gel medium on top of that. Let Dry.
Add the string to the circles to create the envelope closure.
Add decorated shipping tags if desired,
If you decide to make an envelope made with gelli prints of your own, let me know in the comments below or tag me on Facebook. Better yet, join my Facebook group, Mixed Media Playground, and post a picture of what you've made.